It has been a while since Ubuntu MATE was on the cover disk of LinuxWelt magazine, a bimonthly publication from Germany. Now issue 2016-04 hit the news stands last weekend with Ubuntu MATE 16.04 on its DVD and with a review in the magazine.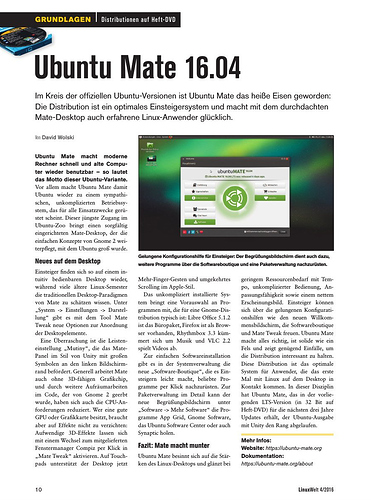 Translation:
Among the family of the official Ubuntu variants Ubuntu MATE is the hot
shot debut. This distribution is an excellent entry-level system but
at the same time offers also a remarkable pleasant experience for the
well-versed user with its thought out MATE desktop environment.
Ubuntu MATE makes new computers fast and older computers usable – that's
this Ubuntu variant's motto. And what's more, Ubuntu MATE
presents Ubuntu again as a very user-friendly and uncomplicated
operating system which seems to fit most fields of application. This
latest addition to the Ubuntu zoo offers a carefully designed MATE
desktop which maintains the easy-to-understand concept of Gnome 2 –
the desktop that was with mainline Ubuntu while grew into the popular
Linux distribution that it is today.
What's new on the desktop
Beginners will not encounter much difficulties with this intuitively usable
desktop, and at th same time many Linux experts will love MATE's
traditional paradigms. Under "System → Preferences -> Look and
Feel" MATE Tweak provides a couple of fresh options for arranging
it's desktop elements. A nice surprise is the side bar position
"Mutinity" that places the panel on the left side in the style of
Unity featuring large symbols.
MATE workes fine without demanding 3D graphics and since a rewrite of part
of the code that derived from Gnome 2 also the requirements on CPU
cycles were remarkably reduced. If however the PC is equipped with an
able graphics chip, you can easily enable the window manager Compiz
with 3D effects in MATE Tweak. Touchpads can be configured to support
multi-touch and reverse scrolling in Apple's "natural scrolling"
style is only a couple clicks away.
The easy to set up system has a range of preselected programs
preinstalled that are typical for a Gnome-based distribution:
LibreOffice 5.1.2, Firefox browser, Rhythmbox 3.3 for music and the
video player VLC 2.2 amongst other programs. A wide selection of
popular programs from Ubuntu's repositories are installable through
the new "Software Boutique". For the detailed package management
more traditional tools are available on the Ubuntu MATE Welcome
screen via "Software → More software": App Grid, Gnome
Software, Ubuntu Software Center or Synaptic.
Ubuntu MATE is certified fresh
Ubuntu MATE remains based on the core virtues of the Linux desktop:
excellent response times, modest hardware requirements, intuitive
operation, lots of possibilities to adapt it to your own needs and an
appealing appearance. Users new to the Linux desktop will love the
unique configuration tools such as MATE Welcome, Software Boutique
and MATE Tweak. Ubuntu MATE is highlight in the Ubuntu 16.04 canon.
It's not just rock solid but sweetens the life of a desktop users
with quite a couple of innovations that make this distribution stand
out among the other Ubuntu flavors. It is ideal for users who want to
install Linux the first time. In this particular discipline Ubuntu
MATE (32-bit-version on cover DVD) has outclassed the regular Ubuntu
version with its Unity desktop. The distribution will continually get
updates for the next three years.