I made it myself

You should upload it, I rather like it

If youj want it,, and don't mind the image being the size of his desktop you could just cut the middle bit out and paste it central to a blank image of equal size with that background colour.
Awesome. Also an easy image to change if one were to dislike the background.
Hi! I like the wall paper. Where is this from? Can I download it from anywhere?
Yes, sure.
I do not claim any copyright
What theme are you using to achieve transparent upper bar?
Hi: I don't remember, but I think all I did was right click on it and adjust transparency. Son took laptop & put another distro on it so not able to go back and check.
Haven't used desktop icons in years, so i thought i'd have a bit of a change.
I had a conky but it was giving me too much grief. (Life's too short)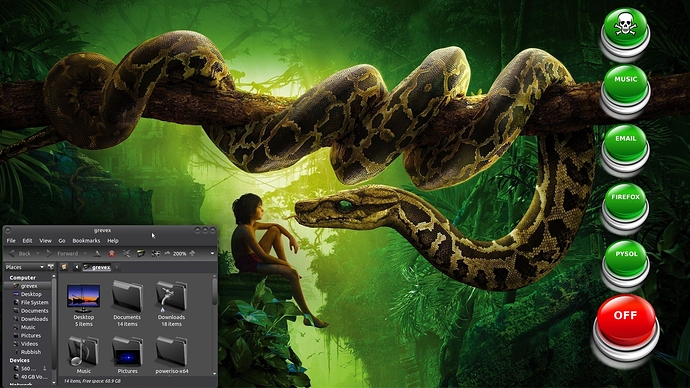 Could you share the theme you are using? Thanks!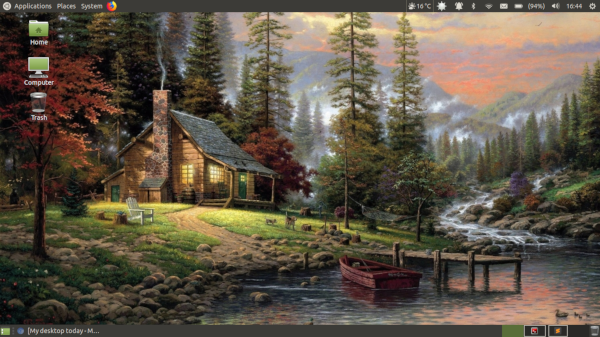 Awwwh, that's a cute Conky setup! Clever use of the monitor in the background.
After having worked my butt off compiling information for numix-folders and making it work in modern Ubuntu, figured I would show the power of a tightly-knit colour scheme by taking an image with a generic-looking water background, nearly-matching KDE cursor and semi-custom iconography.
...Yeah, sounded better in my head. But the eyes in my mind are as pleased as the eyes in my head knowing now that I can at least have much more theme customization options, albeit limited to whatever numix-folders allows.
Those who had been following my posts may observe this isn't the Canta GTK theme I am using, but Mint-Y Dark Teal. I sort of gave up on the whole radio button modding thing in favour for something pre-made that's close enough to the same effect of what I am after. In case anybody wonders about my numix-folder settings; 6, #888888, #579C8E, #353535
In German forums they say only one word:
Gadse
---
Which is for softened for Katze (le chat) and means that a cat is everything and anything else is no longer important