Could you share the theme you are using? Thanks!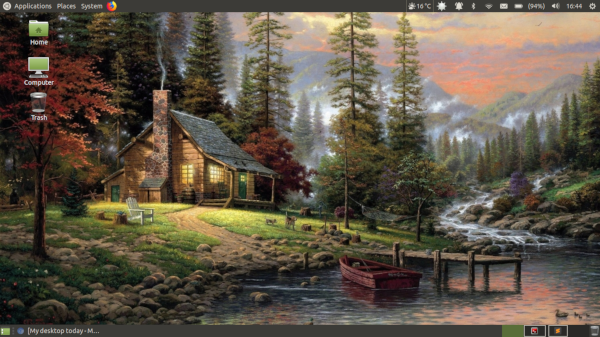 Awwwh, that's a cute Conky setup! Clever use of the monitor in the background.
After having worked my butt off compiling information for numix-folders and making it work in modern Ubuntu, figured I would show the power of a tightly-knit colour scheme by taking an image with a generic-looking water background, nearly-matching KDE cursor and semi-custom iconography.
...Yeah, sounded better in my head. But the eyes in my mind are as pleased as the eyes in my head knowing now that I can at least have much more theme customization options, albeit limited to whatever numix-folders allows.
Those who had been following my posts may observe this isn't the Canta GTK theme I am using, but Mint-Y Dark Teal. I sort of gave up on the whole radio button modding thing in favour for something pre-made that's close enough to the same effect of what I am after. In case anybody wonders about my numix-folder settings; 6, #888888, #579C8E, #353535
In German forums they say only one word:
Gadse
---
Which is for softened for Katze (le chat) and means that a cat is everything and anything else is no longer important

After a couple hours of tinkering with stuff, I managed this:


Showing icons from Numix along with the rest of the desktop.
MateriaV2 purple, Mint-Y Dark Blue window border, Oxy Obsidian cursor theme, customized Numix theme using colours from Mint-Y icons (specifically the folder) and MateriaV2 with style 5 provided by numix-folders.
Basically putting all of my prior knowledge together, with a modified background image I grabbed from the Internet. Will provide background and icon theme on request.
Very nice!
What font are you using? It's slick. Nice theme too, which one?
Also, it looks like you are using a customized version of Papirus for icons (or maybe a recent version).
Congratulations for your theme, very beautiful!
You have a good taste

I am going to try it and will definitely use this gorgeous font.
Thank you!
Thanks! If you have any suggestions lemme know
Interesting question: Why are you using Winamp? Y'know, if you want Milkdrop-style visualizers you can just install projectm-pulseaudio and use that with whatever program you want since it hooks into PulseAudio, yeah? Sure not all Milkdrop visualizers work, but it's headed by the same dude that made Milkdrop in the first place.
Brandon, I have always liked Winamp's gui, and that it can be reduced to a tiny footprint. I never use visualizations. Audacious's "winamp"-like skin is ok, but I still prefer the original; which I have been using since version 1 in 1997.
Could do with adjusting your GTK font choices to match or pair well with your desktop widgets.
I didn't want to say anything until I more thoroughly researched it; if you are willing to use Compiz as your desktop compositor, you can install emerald and append onto your autostart so /usr/bin/emerald --replace is executed to change the decorator at sign-in and use its window shade feature to compress any window to the size of the titlebar. Also opens tons more customization options if you want to spend a weekend spiffing up your desktop
Since it only works with compiz you will need to open mate-tweak to use, or do compiz --replace & in bash (&! instead of & in zsh for background tasks) and install emerald via apt:
sudo apt install -y emerald

Else if you don't really care, no worries. Just figured I would mention that emerald is an option for having that "tiny footprint" for all of your applications.