We're totally over the bloody moon to announce Ubuntu MATE 17.04. This is our favourite release of Ubuntu MATE so far and, we believe, a real return to form. Ubuntu MATE 16.10 was a transitional release, in every sense, and 17.04 concludes the upheaval of migrating to GTK3+. This has been a release focused on refining the distro and sweating the details. As always, we're never finished and eager to start work on 17.10 to bring you futher improvements and refinement. But for now, we hope you enjoy Ubuntu MATE 17.04 as much as we've enjoyed making it for you.

-- Martin Wimpress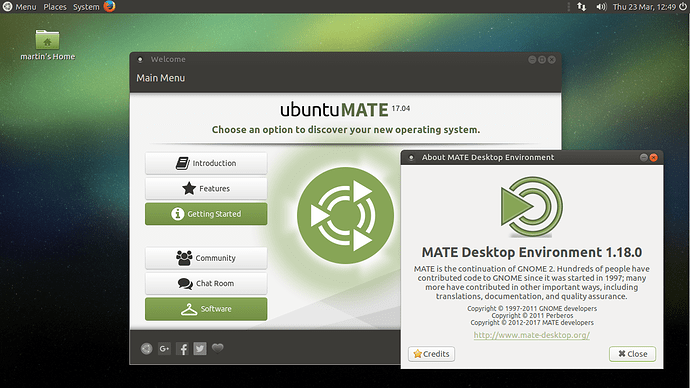 If you're running 16.04 LTS, you are still supported until April 2019. If you'd like to switch to 17.04, you'll need to adjust your new version settings in Software & Updates to "any new version", and then use the Software Updater to jump to 16.10 then 17.04.
Highlights:
MATE Desktop 1.18.0, which is purely GTK3+ only, plus new features and modernisation.
Icon and theme updates, including an Ambiant-MATE Dark theme.
Introducing the Brisk Menu.
Martin Wimpress from Ubuntu MATE did some stuff but no one remembers what.