There is a "which Ubuntu poll" on reddit at the moment. Can we game it?

Yes, count one more vote for Ubuntu Mate.

Make that two more votes…
@steven and @grenouille, welcome to Ubuntu MATE

I voted.
(extra text for filter)
post must be at least 20 characters … I voted.
Game on. Tally has 1 more.
I voted for the other guy!. Only joking, a + from me!.

From the people that answered that they will move to another distro, they said they are going to(%)*: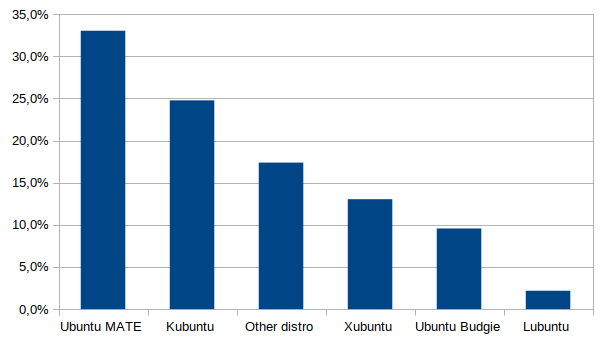 Source: http://redditpoll.com/poll/poll-do-you-intend-to-hop-to-other-ubuntu-flavour-when-default-is-going-to-be-gnome
*I didn't vote to not mess with the data
I feel you there but it's already far too late for that. That's the point of gaming it.

502 Bad Gateway
Oh well!

The poll's busted on my end!
I've been using Ubuntu 17.10 (GNOME 3) at work… it's been nice… but I'm thinking of switching it over to Ubuntu MATE 18.04 on release.

I have a mixed ecosystem here. The critical systems are running Ubuntu Mate. I have an older laptop with an SSD in it running Debian Testing. Debian Testing gives me a platform to satisfy my need to tinker with things where making a mistake might take the system down. I have another laptop with Kali on it. While Kali can be a little bloated it provides a nice toolbox with a wide variety of specialized tools at hand when needed. We have one Samsung Chromebook Pro and a couple of Samsung Tabs for our on the go devices. They provide us a light application platform and internet accessibility without the need for having a laptop on hand when mobile.
In my book Ubuntu Mate is a good platform for stability for our critical systems we need to stay operational. A little customization to taste and I'm confident that short of hardware failure it will just run pretty much hassle free.