EDIT: Dang! I didn't notice this: GitHub - vlastavesely/raleigh-reloaded: Raleigh Reloaded is a conservative GTK-3.20 theme aiming to re. Oh well, IMO my version still looks better, somehow.
One thing that really annoys me is how many GTK+ 3 themes there are "out in the world" now, and yet how few are really as visually appealing as their similar GTK+ 2 counterparts. Some new themes are supposed to look like classic GTK+ 2 themes, but they almost always have noticeable flaws or incongruities that are really the fly in the ointment, i.e. they "just don't look quite right".
I got very tired of the situation, so I've invested a few hours (total, so far) into creating a new GTK+ 3 theme based on an old classic GTK+ 2 theme: Raleigh. For anyone not familiar, Raleigh was the old GTK+ 2 default theme, and was a commonly-used theme on Red Hat-based Linux systems even in the days of GTK+ 1.2. It was well known for being very, very plain vanilla, based on shades of gray and dark blue, and changed in subtle and not-so-subtle ways from GTK+ 1.2 to GTK+ 2.24.
I personally like Raleigh, probably partly because it was what I used for years many years ago -- I guess I'm a little nostalgic. Either way, I got tired of one poorly-written GTK+ 3 theme after another, and I wrote a GTK+ 3 theme to look as close to exactly like the original Raleigh as possible. It's not yet complete, but I'm proud of how far I've gone in such a short amount of time! I'll probably be uploading the source code and opening it up fairly soon, after I iron out a few more wrinkles.
---
After all that talk, here's a sample: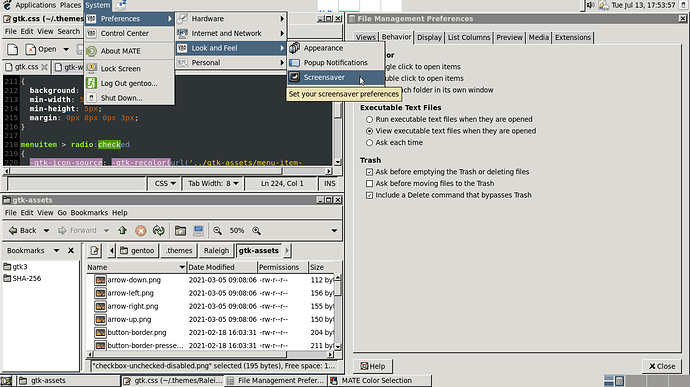 That is MATE 1.24.2 and GTK+ 3! Anybody who used GTK+ around 2002-2004 should immediately recognize that the user interface is quite close to what GNOME 2 used to look like. It's not identical, but it's possibly the best impression of "the old days" that I've seen yet.
I'll do what I can and hopefully open up the code in just a few more days for anyone to use and/or edit!