Atril does not shows entire document. Its hides part of full pdf documents.
Tks.
Could you give a little more info:
what MATE verison are you running (ex: 18.04)
screen shot of what is missing in docs.
any other information that could give people a better idea of the problem
sorry, I do not accept emails. nothing personal, it is a rule I have for myself.
No problem. I understand. I am avoid to put my file here because it has personal information.
Tks.
Ok. Let me read about this link and after, do so.
can you use another PDF document(without important info) and screen shot it, to show how the documents are being cut off?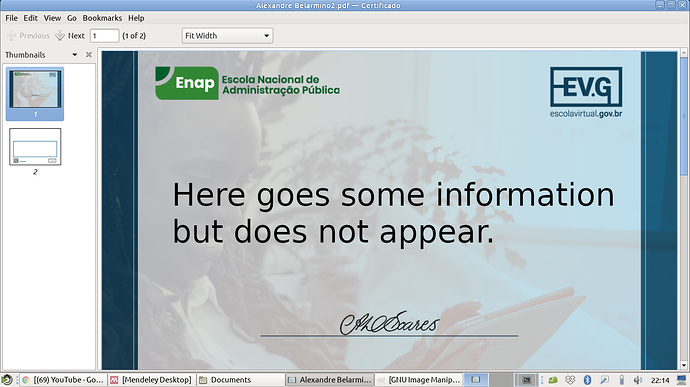 Goes a example. The same file can be viewed on Mendeley without problems. This is a certificate. I avoid to put the right one (viewed on Mendeley) by the reason I already typed.
Tks.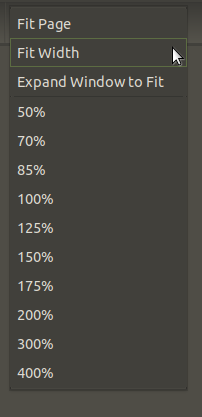 Is this the view being cut and not the document.
The current view is set to " Fit Width"
Perhaps selecting to "Fit Page" would show all.
Sorry. I did your steps but without any result.
I guess there's a problem reading this particular PDF format. Possibly if it was saved with an embedded font, a font not present or perhaps it's a different PDF standard.
It looks like text is supposed to appear, are you able to drag and "select" invisible text?
You could try opening it in GIMP (a photo editor) and/or try other PDF viewers, like Evince or Okular (Qt) to see if they can load it properly.
To add another viewer choice to Luke's suggestions. Open it in Libre Writer. You can then export it in pdf to a new file. (assuming it works properly. I have had Writer work wonderfully on many problem pdfs. It usually is the original document that has some error in it.
hello!
Thanks for suggestion . I did so and it works fine. But Ibelieve atril should be able to do like LibreOffice does.
Glad to hear it worked. If you export to a new pdf - that one should be error free. Portable Document Format (PDF) was invented by Adobe in 1993. I use to rarely find any third party software that could handle the evolving standard of Adobe's (originally proprietorial) PDF document format. LibreOffice does really well. I'm finding that as time goes on - many pdf readers work just fine.