Hello!
I am not a noobie to Linux, but I'm not that advanced either, so here goes:
I'd like to know if there are options to configure the Brisk Menu in Ubuntu MATE 17.10. So far the distrubution looks great, but in Contemporary layout, with default Theme and Icons, the Brisk Menu is looking a little ugly. Just my opinion, but the scrollbar for the categories is unnecessary, the search bar really should be at the top, and the System icons (logout, lock, shut down) are taking up an entire row but the buttons remain disproportionately small.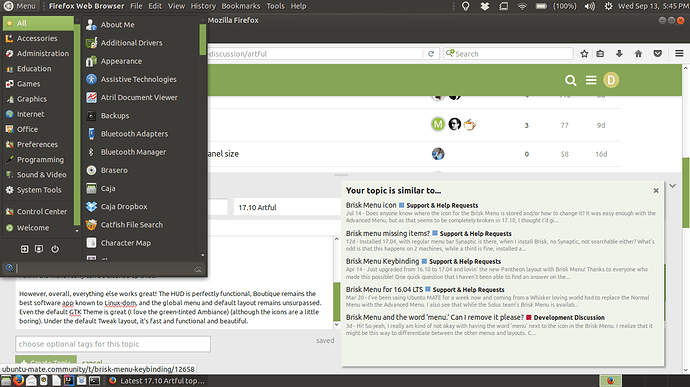 I think the menu really can be cleaned up a lot.
However, overall, everything else works great! The HUD is perfectly functional, Boutique remains the best software app known to Linux-dom, and the global menu and default layout remains unsurpassed. Even the default GTK Theme is great (I love the green-tinted Ambiance) (although the icons are a little boring). Under the default Tweak layout, it's fast and functional and beautiful.
Is there some way we can configure brisk to satisfy my OCD? Can we perhaps tweak it just a little?
Thanks!