Hi i can't find "user and groups".
Do i miss something?
nothing is found.
i searched it everywhere...
Looks like gnome-system-tools was removed from the default package set, but it's still in the repos.
added it to my script.
Looks like there is no way to change your Name after the Installation without installing another package lol
There is the program "Personal Information", but you can only change your password and picture there...
I think the idea behind removing this package was, that they didn't want to use all programs which are included by gnome-system-tools.
e.g. after the installation you have two bluetooth programs, but i think a basic program to change your name, add and remove new users and change their permission should be included...
I can confirm that confirm that gnome-system-tools was removed from the seeded packages for 22.04 late in the testing cycle. I've asked for some clarification on this.
Installing gnome-system-tools will restore the missing option in the Control Center
Follow-up. gnome-system-tools was removed due to the following security issue if you have auto-login enabled:
Thanks for the information, but i don't understand:
But it can now be removed from the Ubuntu MATE default install because recent versions of MATE Control Center provide user and time management.
How?
Where can i find the user management?
I have done a fresh install of UbuntuMate 22.04 LTS (Jammy Jellyfish) Linux distribution (wiped out the entire disk before starting with the installation)
However, have to find out that the Control Centre panel application does not provide any option to add or administer users, it only displays an icon with title "About Me" allowing me to change the password only. Here the screen shot taken from the Control Centre panel application: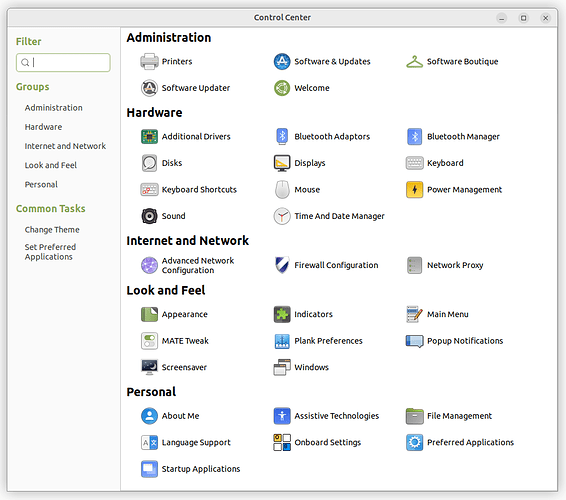 Thus, how can I add more users, and also enable the automatic login of a selected user?
I have the same problem. I added my name to those affected.
This is a really surprising bug, or is it an intentional change in something "upstream" that Ubuntu-Mate uses?

Someone forgot something ... it happens.
I was quite surprised to see this as well. I'm just about to hand out 12 laptops to Linux beginners and the first thing they need to do is to create their own account. Would be quite off putting sending them to command line so early.
Is there a more Mate friendly app or is it just to install gnome-system-tools again?
Tried to deploy new Raspberry Pi's test stations(ARM64 22.04 Server with Mate desktop installation) and ran across the same issue. Maybe something to do with the new Active Directory Integration?
Hello,
After updating from 21.10 to 22.04 the "users" section in the control center disappeared and the password at log in is disabled by default.
Any help please?

So in conclusion - if one doesn't enable disk-encryption and turn off auto-login, all should be fine with gnome-system-tools installed?
I would simply not recommend using auto-login should you install gnome-system-tools.