Continuing the discussion from:
Can't you right click on the clock in the panel, Preferences, then 24 hour format?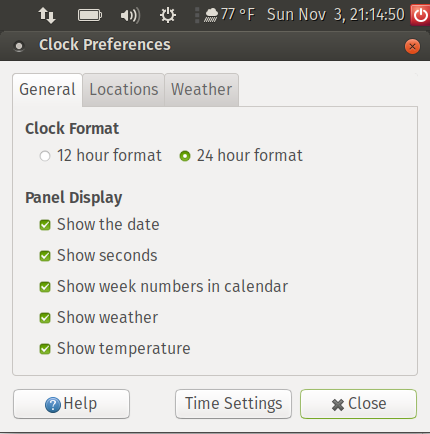 Like the image I uploaded showed, when the region is not English the clock format doesn't appear. Goes straight to the Panel Display options.
I selected Puerto Rico as my region and was able to select 24 hour format. So after noon today I will know if that change holds.
I did not add the Spanish language pack, but I changed my timezone to Puerto Rico, 24 hour clock works. Maybe I don't understand your issue?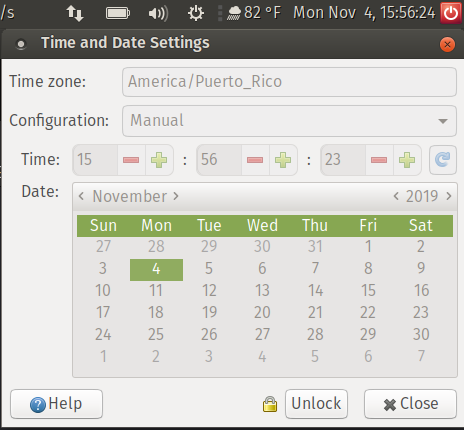 Oh no, its not the 24 hour format. Here we use the 12 hour format. Which we can't chose unless we change to English in the regional formats tab of the language support option.
Spanish region option:

English region option: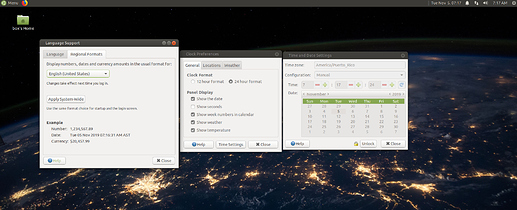 That's why I wanted an option to show the "Choose your clock format" setting regardless of region.
Well your two quotes above seem to contradict and confuse me. Anyway, I can choose either 12hr or 24hr format regardless what timezone I select. Like I said earlier, I never installed the Spanish language pack.
I split these posts to try to stick to the "top 3" structure of the original topic.
The problem is that the new date/time indicator doesn't offer direct options to its customisation.
Take a look here for editing its dconf settings:
I guess the problem is that the indicator has its own settings independent of time zone or locale... or its defaults...

It would be good if the indicator can at least offers options like the older applet did.