Before I upgraded my 20.04 system to 22.04, I had my panel height at 38px, and I had increased the size of the icons in the panel (Add to Panel --> Application Launcher --> Add) as well. I've now upgraded to 22.04 (awesome release btw!), and decided to shrink my panel height back to 32px.
I'm unable however to reduce the size of my existing (or newly added) icons! The "Select the icon size for panel icons" drop-down is inactive, cannot use it: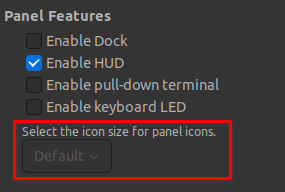 I'm quite sure I was able to change the icon size in 20.04 using this option.
Is there any other way to change the panel icon size?