[NOTE THIS TUTORIAL IS AWFUL. STEPS 4 - 8 STILL APPLY. FOR A BETTER TUTORIAL, CHECK OUT: Installing Compiz Reloaded ]
Here is a tutorial for those people who want cool desktop effects, such as fire (burn), wobbly windows, etc
I will be using Ubuntu MATE 14.04 LTS for this.
FOLLOW THIS TUTORIAL WITH CAUTION AS IT WILL OVERWRITE COMPIZ 0.9!!
Step 1. Make sure compiz is not running, open up your terminal and execute the command sudo apt-get install git

Step 2. Download the installation script by executing git clone git://northfield.ws/compiz/scripts release-0.8.12

Step 3. Let the script do it's magic by executing ./scripts/go - This will download the needed dependencies, compile compiz-reloaded and emerald. This may take several minutes to complete.

Step 4. Open up CCSM and make sure that Window Decorations is selected.

BTW: There are duplicates of plugins because some of the compiz 0.9 components still exist on the system. Compiz 0.9 components are not compatible with 0.8 components and vice-versa. Incompatible components 'usually' may not have their configuration options shown but this may not be the case for all plugins. You should proceed with caution and if at any moment compiz crashes this may mean you selected an incompatible plugin.
Step 5. Configure Window Decorations. For the command type emerald --replace

Step 6. Enable Crash Handler. For the command type 'marco --replace'

Step 7. Enable Window Management plugins such as: Move Window, Place Window, Put, Resize Window. Feel free to add and experiment with other plugins, but be careful!!

Step 8. Enable compiz. Open up MATE Tweak and Enable Compiz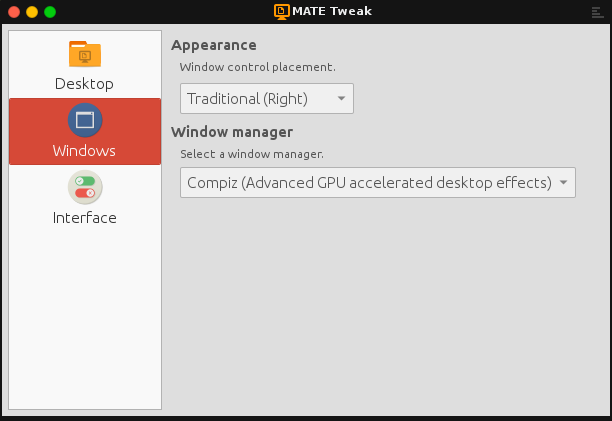 Have fun!!!
Uninstallation. Execute ./scripts/uninstall to remove the installation from your machine.
Tutorial Found At: http://blog.northfield.ws/compiz-release-announcement-0-8-12/