I tried to ask this question at the Ubuntuforums, but nobody could help me because they didn't understand how Mate works with graphics cards. I was adviced to switch to the regular Ubuntu, but I really like Mate so I want to see if I can make it work first.
The situation is that I have a problem with using the Nvidia-396 driver on a laptop running Mate 18.04.
I have a brand new HP Pavilion Power 15-CB084NO laptop with a Nvidia Geforce GTX 1050 graphics card, and I'm trying to use an external monitor connected via HDMI. However, Ubuntu Mate doesn't detect any signal from the monitor when I'm in "Monitor Preferences" and pressing "Detect Monitors." (Windows 10 can detect the monitor on the same laptop, so it's not a hardware problem.)
I have installed nvidia-driver-396, and in "Software & Updates / Additional Drivers," it appears that it's working (see screenshot below):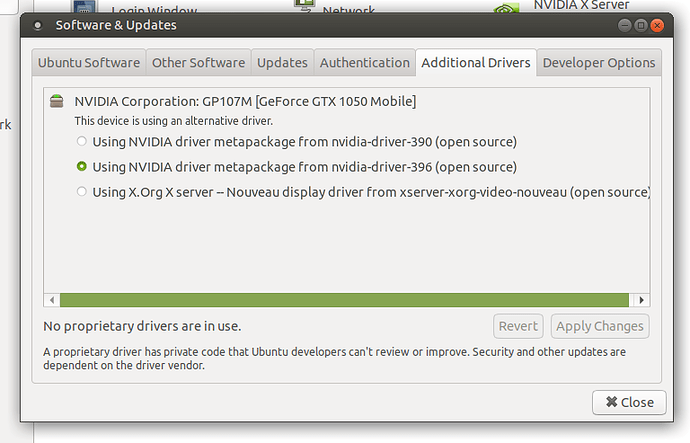 But for some reason, it's using the Intel driver instead of the Nvidia driver, and that this is the reason why I can't get a signal on the external monitor.
When I type "cat /var/log/gpu-manager.log" in terminal, a part of the reply is:
Is nvidia loaded? no
Was nvidia unloaded? no
Is nvidia blacklisted? no
Is intel loaded? yes
Is radeon loaded? no
Is radeon blacklisted? no
Is amdgpu loaded? no
Is amdgpu blacklisted? no
Is amdgpu versioned? no
Is amdgpu pro stack? no
Is nouveau loaded? no
Is nouveau blacklisted? yes
Is nvidia kernel module available? yes
Is amdgpu kernel module available? no
So, what am I doing wrong? Does anybody know how to fix this in Mate?