Dear all,
I am quite new to Ubuntu, which is why I would be thankful for any help.
After the installation of Ubuntu Mate 16.04 LTS I've figured that my two Titan X Pascal have not been recognized by Mate. The standard driver "Nouveau" was still active (according to the "Software & Updates" window) after the installation. First, I updated and upgraded the operating system using the "Welcome" functionality of Mate.
Then, I've followed this instruction and after a reboot the result in the "Software & Updates" window is as follows: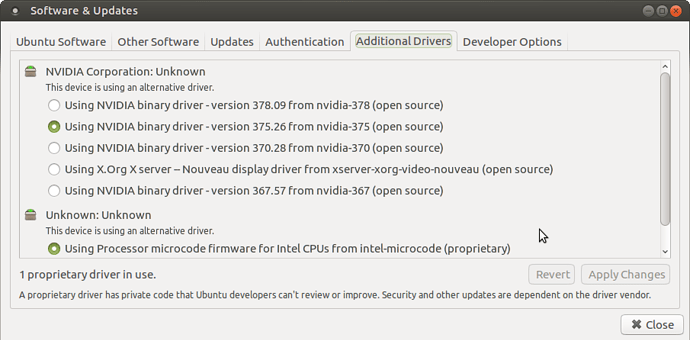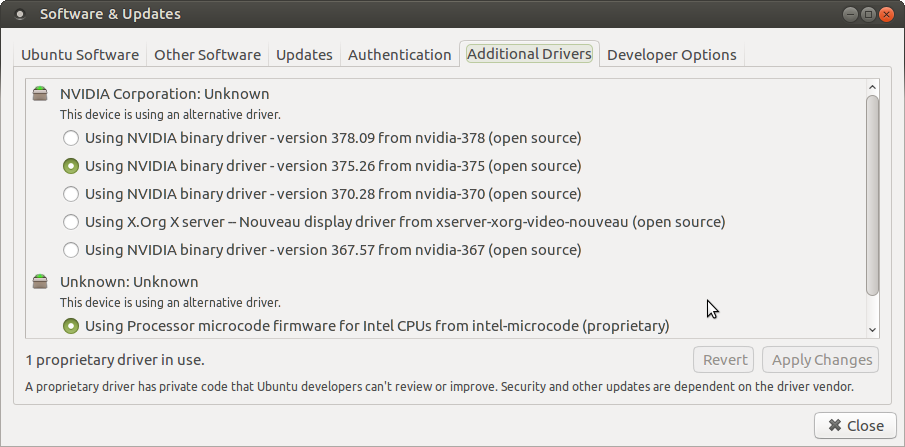 According to the Nvidia website the 375 driver is the right one for a Titan X Pascal. After the installation of the 375 driver, however, the system still does not recognize that it is a Titan X Pascal (see screenshot above). If I do interpret the output of the lspci command corretly the hardware has been recognized. A similar result holds true for the lshw output (unfortunately, i am not allowed to include more than one pic here as I am a new user).
In addition, I cannot change the standard resolution of 1024x768 in "Displays" which is kind of annoying. I have read possible solutions for this problem but I am not sure if these would work given that I am not sure if the driver is properly installed and activated.
If you need any other relevant information to get a better understanding of the situation pls let me know.
Why does not appear the GPUs' name in the "Software & Updates" window (see first picture above) accordingly but the outputs of the lspci and lshw command seem to be fine?
How can I fix the problem(s) described above?
Thanks a lot and best regards,
Alex