Hi there,
I am running marco compton compositor externally. Which seems to be a good idea because it's fast. But when I alt+tab, it feels like win98 again.
Example: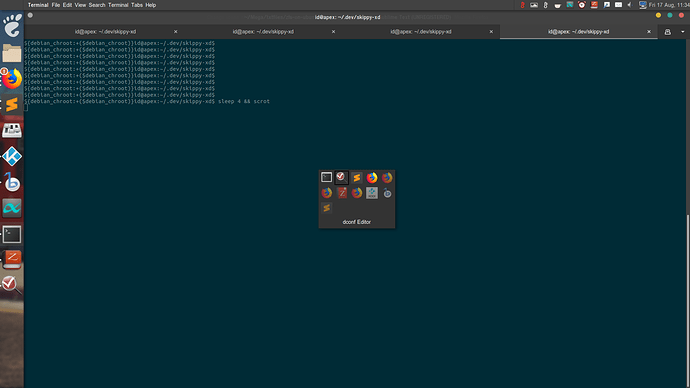 Now while I could switch to a different compositor. Like compiz or something else. I would then have to make a compromise by giving up compton.
So what about working on skippy-xd project then?
It's a standalone application. And fairly simple and does most of what it should. I have just compiled it today from source, on ubuntu 18.04. And there were no errors. It seems to still work, in it's previous state. Although there might be some bugs, and certainly there is also specific bits of functionality missing in the code.
But it's a good starting point, for not much effort. Instead of re-inventing from scratch.
I suppose the other way would be just to improve marco's existing window picker (as shown in the desktop image above). To use more modern / larger icons. Which would be another way to go about it.
Skippy-xd - missing bits
Anyhow here is what I see is missing from skippy-xd:
The alt+tab keybindings are compiled in / hard-coded (which are ctrl+tab / ctrl+shift+tab). This prevents them from being changed by a dconf editor setting.
The window picker does not come up on multiple montors (a copy on all monitors). It will only appear in the center of the current active monitor. Perhaps because there is some system information missing, (that it cannot know which monitor is which).
On key release, it does not automatically dissmiss itself + switch to the selected window. Instead you have to then also press the Enter key. (Which should not be necessary).
(then if you really wanted to take it on). Then better / more seamless integration into marco / MATE. Instead of having it's own seperate daemon etc.
The most advanced version of skippy-xd to get, is a few commits ahead of the official one. The bast fork currently is at:
Kind Regards