Saw this posted on Reddit. Thoughts?
Good article. He surely made a valid point.
Plaintext queries over internet are, in this century, not exactly a good practice.
Hello everyone
You could install the dictionary/thesaurus application "artha". An easy way to do that is to use the package manager Synaptic.

Great thanks. Have Dictionary set to offline (have to set it up special) and doesn't offer word hints when entering word you don't know spelling for (would then go into writer and type word and check spelling to get the correct spelling to enter in Dictionary).
Originally when searching for dictionary in Synaptic it does not show up but if you type Artha it shows up as a Handy Offline Thesaurus thus why I missed it. Nice offers hints when entering your word for possible spelling.
Possibly the database may not be totally up to date but so would Dictionary being offline and using stored database.
Very nice, thanks again. Off to change panel shortcut and enter in my Calc sheet reflecting the change.
Second image shows both side by side.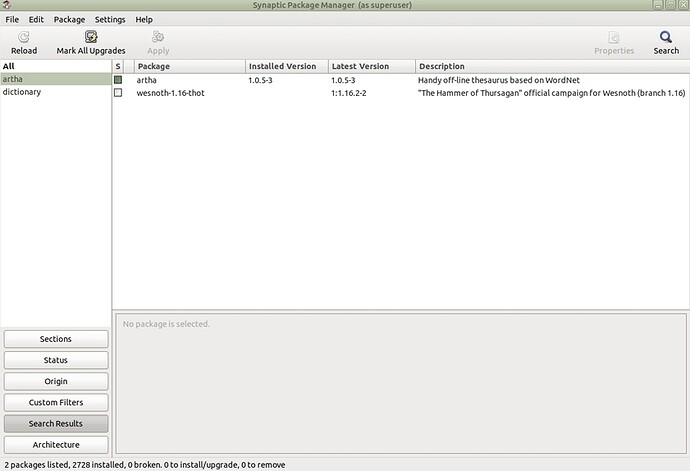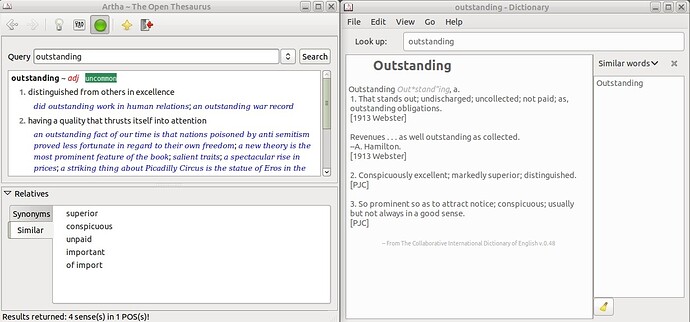 On the other hand (and in my opinion), if you are the owner of an alexa typed device in your living room (or bedroom), then the plaintext dictionary queries would be the least of your worries.
And over all, I regard offline dictionaries more practical (works without network, for instance).
@alpinejohn : thanks for the tip


@mendy: thanks for the visual examples/comparison

sudo apt install artha

splendid!

Right
I am in the fortunate position that I have hands where I can turn on a light or adjust the thermostat, change channels on TV (remote was under $8 at Walmart) without spending hundreds of dollars for IOT devices, always on internet, and data tracking by insert you choice here ( ). IE: Google, Bing, Amazon or others.