Ubuntu MATE 22.04 for Raspberry Pi

images are available for download

These took longer to prepare than I had hoped due to a busy work schedule

and some complications in getting snaps properly integrated due to underlying changes in Ubuntu.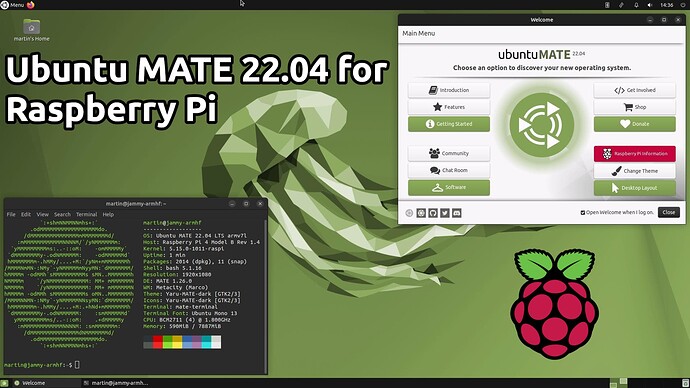 Anyway, here's what's new since the 21.10 images:
Refreshed images based on Ubuntu MATE 22.04.
Enabled 1GiB zswap (using lz4) by default.
Enabled the VC4/V3D Full KMS driver by default. (See Known issues below)
Enabled window manager compositor by default.
Drop /usr/local/sbin/adduser.local helper.
Optimised image size.
You can get the downloads from the Ubuntu MATE download page:
Known issues
There is one unfortunate issue that was only spotted during final testing. It is easy to fix and will be eradicated in the 22.04.1 images due next month.
Pi 2 and Pi 3 will boot to a black screen with the 32-bit ARM (armhf) build

Simply change dtoverlay=vc4-kms-v3d to dtoverlay=vc4-fkms-v3d in config.txt to remedy the issue.
22.04.1 is due in August 2022 and this issue will be fixed in those refreshed images.
Development Live Streams
I live stream development work on Ubuntu MATE and other projects Monday, Wednesday and Friday on my Wimpys World Twitch channel

For those of you who can't join live, due to timezones, I also archive the streams on my Wimpy's World YouTube channel

I hope to see you there soon and I'll be happy to answer any questions you might have