After doing a fresh install of 18.04 on an old Dell laptop, I continue to get error messages subsequent to safely removing a Western Digital Passport usb drive. This morning, I plugged it in and then safely removed it at 9:19AM. At 10:30, this message appeared.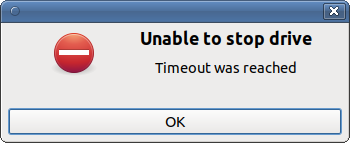 Got any ideas on troubleshooting? I usually unplug the drive late at night and am greeted with the error message when opening the lid in the morning.
Edit: I am reasonably sure that this is a bug in caja but not totally sure. Google-fu has not helped me...
Edit 2: Syslog says this about that -
May  5 09:18:50 D830 gvfs-udisks2-vo[1638]: gvfs_udisks2_drive_stop_finish: assertion 'g_async_result_is_tagged (result, gvfs_udisks2_drive_stop)' failed
May  5 09:18:50 D830 gvfs-udisks2-vo[1638]: g_dbus_method_invocation_return_gerror: assertion 'error != NULL' failed
May  5 09:18:50 D830 gvfs-udisks2-vo[1638]: g_error_free: assertion 'error != NULL' failed
May  5 09:18:50 D830 kernel: [99125.601129] usb 2-1: USB disconnect, device number 6
May  5 09:18:50 D830 upowerd[1781]: unhandled action 'unbind' on /sys/devices/pci0000:00/0000:00:1d.7/usb2/2-1/2-1:1.0
May  5 09:18:50 D830 upowerd[1781]: unhandled action 'unbind' on /sys/devices/pci0000:00/0000:00:1d.7/usb2/2-1