Hello everyone,
i've just installed ubuntu mate 18.04 on my acer aspire 5530.
I've tried to open a video with vlc and i see a lot of gfx corruption.
the notebook is about 2009 and has a dual radeon card. I have tried disabling compositing and enabling compiz, but nothing seems to change.
Video that gets corrupted here (wetransfer link): https://we.tl/v0S1hMLm9k (downloaded from yt with jdownloader)
Edit: Full link here: https://wetransfer.com/downloads/437da5b59a1a14ca3b033cd18a6ae35c20180712134130/10c143
Screenshot attached.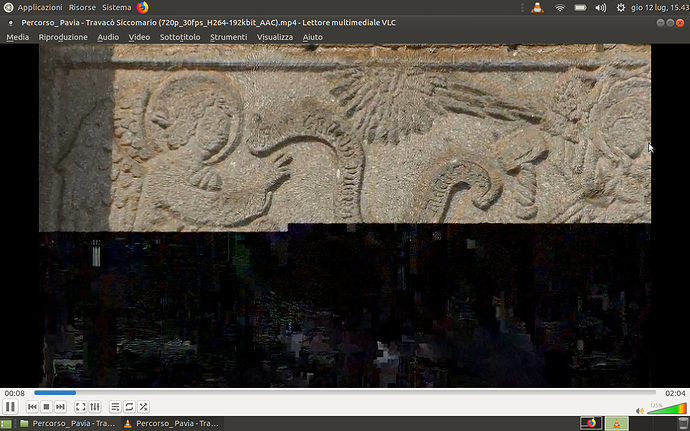 mpv and mplayer are working fine.
Thank you in advance for any suggestion.
Inxi -f
Kernel: 4.15.0-23-generic x86_64
           bits: 64
           Desktop: MATE 1.20.1  Distro: Ubuntu 18.04 LTS
Machine:   Device: laptop System: Acer product: Aspire 5530 v: V1.11 serial: N/A
           Mobo: Acer model: Cinder Cone serial: N/A
           BIOS: Acer v: V1.11 date: 08/06/2008
Battery    BAT1: charge: 33.2 Wh 85.0% condition: 39.0/48.8 Wh (80%)
CPU:       Dual core AMD Turion X2 Mobile RM-70 (-MCP-) cache: 1024 KB
           clock speeds: max: 2000 MHz 1: 2000 MHz 2: 1000 MHz
Graphics:  Card-1: Advanced Micro Devices [AMD/ATI] RS780M [Mobility Radeon HD 3200]
           Card-2: Advanced Micro Devices [AMD/ATI] RV620/M82 [Mobility Radeon HD 3450/3470]
           Display Server: x11 (X.Org 1.19.6 )
           drivers: ati,radeon (unloaded: modesetting,fbdev,vesa)
           Resolution: [email protected]
           OpenGL: renderer: AMD RV620 (DRM 2.50.0 / 4.15.0-23-generic, LLVM 6.0.0)
           version: 3.3 Mesa 18.0.5
Audio:     Card-1 Advanced Micro Devices [AMD/ATI] SBx00 Azalia (Intel HDA)
           driver: snd_hda_intel
           Card-2 Advanced Micro Devices [AMD/ATI] RV620 HDMI Audio [Radeon HD 3450/3470/3550/3570]
           driver: snd_hda_intel
           Sound: Advanced Linux Sound Architecture v: k4.15.0-23-generic
Network:   Card-1: Broadcom Limited BCM4312 802.11b/g LP-PHY driver: wl
           IF: wlp6s0 state: up mac: 00:23:4d:9a:45:6d
           Card-2: Broadcom Limited NetXtreme BCM5764M Gigabit Ethernet PCIe
           driver: tg3
           IF: enp7s0 state: down mac: 00:1e:ec:d4:25:9a
Drives:    HDD Total Size: 240.1GB (24.6% used)
           ID-1: /dev/sda model: KINGSTON_SA400S3 size: 240.1GB
Partition: ID-1: / size: 17G used: 5.4G (35%) fs: ext4 dev: /dev/sda1
           ID-2: /home size: 195G used: 43G (23%) fs: ext4 dev: /dev/sda5
           ID-3: swap-1 size: 8.26GB used: 0.00GB (0%)
           fs: swap dev: /dev/sda6
RAID:      No RAID devices: /proc/mdstat, md_mod kernel module present
Sensors:   System Temperatures: cpu: 59.5C mobo: 0.0C
           Fan Speeds (in rpm): cpu: N/A
Info:      Processes: 167 Uptime: 6 min Memory: 955.4/3690.2MB
           Client: Shell (bash) inxi: 2.3.56 
[email protected]:~$ inxi -F
System:    Host: raffaella-Aspire-5530 Kernel: 4.15.0-23-generic x86_64 bits: 64 Desktop: MATE 1.20.1
           Distro: Ubuntu 18.04 LTS
Machine:   Device: laptop System: Acer product: Aspire 5530 v: V1.11 serial: N/A
           Mobo: Acer model: Cinder Cone serial: N/A BIOS: Acer v: V1.11 date: 08/06/2008
Battery    BAT1: charge: 33.2 Wh 85.0% condition: 39.0/48.8 Wh (80%)
CPU:       Dual core AMD Turion X2 Mobile RM-70 (-MCP-) cache: 1024 KB
           clock speeds: max: 2000 MHz 1: 1000 MHz 2: 2000 MHz
Graphics:  Card-1: Advanced Micro Devices [AMD/ATI] RS780M [Mobility Radeon HD 3200]
           Card-2: Advanced Micro Devices [AMD/ATI] RV620/M82 [Mobility Radeon HD 3450/3470]
           Display Server: x11 (X.Org 1.19.6 ) drivers: ati,radeon (unloaded: modesetting,fbdev,vesa)
           Resolution: [email protected]
           OpenGL: renderer: AMD RV620 (DRM 2.50.0 / 4.15.0-23-generic, LLVM 6.0.0) version: 3.3 Mesa 18.0.5
Audio:     Card-1 Advanced Micro Devices [AMD/ATI] SBx00 Azalia (Intel HDA) driver: snd_hda_intel
           Card-2 Advanced Micro Devices [AMD/ATI] RV620 HDMI Audio [Radeon HD 3450/3470/3550/3570]
           driver: snd_hda_intel
           Sound: Advanced Linux Sound Architecture v: k4.15.0-23-generic
Network:   Card-1: Broadcom Limited BCM4312 802.11b/g LP-PHY driver: wl
           IF: wlp6s0 state: up mac: 00:23:4d:9a:45:6d
           Card-2: Broadcom Limited NetXtreme BCM5764M Gigabit Ethernet PCIe driver: tg3
           IF: enp7s0 state: down mac: 00:1e:ec:d4:25:9a
Drives:    HDD Total Size: 240.1GB (24.6% used)
           ID-1: /dev/sda model: KINGSTON_SA400S3 size: 240.1GB
Partition: ID-1: / size: 17G used: 5.4G (35%) fs: ext4 dev: /dev/sda1
           ID-2: /home size: 195G used: 43G (23%) fs: ext4 dev: /dev/sda5
           ID-3: swap-1 size: 8.26GB used: 0.00GB (0%) fs: swap dev: /dev/sda6
RAID:      No RAID devices: /proc/mdstat, md_mod kernel module present
Sensors:   System Temperatures: cpu: 58.0C mobo: 0.0C
           Fan Speeds (in rpm): cpu: N/A
Info:      Processes: 167 Uptime: 6 min Memory: 956.1/3690.2MB Client: Shell (bash) inxi: 2.3.56