A while ago this forum discussed and subsequently introduced the idea of Support & Help Requests. The response to this has been overwhelmingly positive and greatly added to its appeal of being particularly user-friendly (as opposed to merely user-centric).
I know that Martin Wimpress said this:
Is there a possibility to indicate this more clearly in the forum? There is a lot of energy and enthusiasm coming from new users and many of them may have ideas for new features.
The current forum structure does not use that energy effectively enough. Why not rename Thoughts & Feedback to Feedback & Feature Requests? Once there is enough consensus and approval from the community and ultimately, the development team, these feature requests could then be moved to Development Discussion. This would provide non-technical users with a greater sense of participatory agency while preventing Development Discussion from being cluttered with pre-development comments.
I think there should be an easily recognizable way for new forum members to post feature requests. Especially the perspective of new users is invaluable as they perceive their new OS environment in a fresh way. More advanced users tend to get used to workarounds, often tweaking their system manually and many potentially innovative ideas might get lost on the way.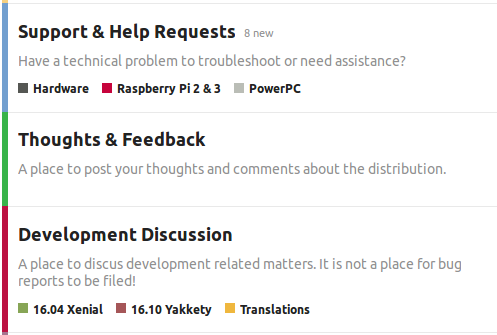 PS: Add an 's' to the 'discuss' in Development Discussion.