Hi. I have recently made a bunch of Caja-related tutorials for my blog - including for 20 different buttons you can add to the toolbar - and would like to share them with the community. Now, besides the fact it would take a lot of time and effort to turn them into individual guides, which I wouldn't have time to do for quite a while, it would either mean flooding the Tutorials section with a bunch of guides all related to the Caja toolbar, or turn it into one monstrously-long tutorial that would be daunting to sift through.
So I was thinking of making one page here that's basically an index of all the buttons, with a pic and link to each guide, like the one I did for the blog: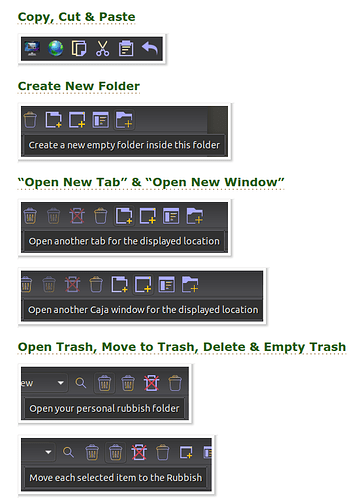 This way, it's all in one page, and people can easily find the buttons they're interested in adding. But, as you can tell from the heading of my question, I am afraid that this might offend some people. I know posting links in answers to questions is fine, but seeing that the tutorials in that section are complete guides, and having been in the Linux world for over 15 years, I've seen cries of horror and indignation for the silliest of things (and a lot of "I know you're trying to help, but you're not helping enough!!"). So I'm just worried that instead of looking at the fact I'm trying to help others in my new community (I only converted to MATE in Dec, after installing Caja in Nov), some might cry foul that I didn't spend days crafting the info into guides, like on my blog (which I spent a whole day finishing yesterday, and now have other matters to attend to).
So I'd like to see what you guys think: would this compromise be acceptable? It wouldn't take me a huge amount of time to create the index page like in the picture above, so I could share this info sooner rather than later, and people would find it easy to navigate. I look forward to your responses.
(PS: To address any concerns those links may soon be dead, my blog has been going for 12 years, so unless WordPress suddenly disappears, it's not going anywhere! And the links to previous articles have never changed, so the links for the Caja toolbar hacks will still be active for years to come)