Hello.
After a project run longer then it should have I'm finally able to backup all my stuff and now I wanna do clean install of Ubuntu MATE 16.04, however I want to keep my existing install of 15.10 32 bit untouched for now and maybe later on I can install 16.10 on that part of the disk.
This is my current setup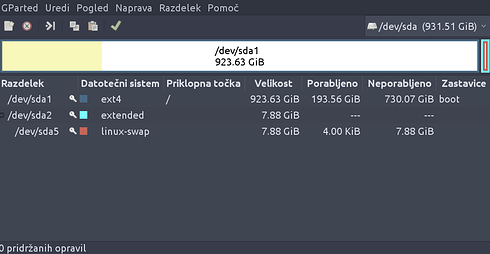 I would like to have separated /home partition and also / or whatever is needed for OS to run. Is 20GiB enough or would it be better if it would be 40GiB for root? Should I use something more?
I would first need to shrink the existing sda1 right? Should I also format newly created partitions?
For swap I can just leave it as it is and don't need another one?
If my other (old) OS is 32bit, can I still make the new install of 64bit or is it better or less painful to install 32bit system?
I can go straight to usb boot and live session worked well I just don't have many experience with creating partitions and don't want to do something wrong and break system I also haven't install 64 bit system before.
Another question, when I install UM 16.04, will I still be able to see or use stuff that are saved on 15.10 or would be better to move those things on external disk and then move it on /home partition once installed?