Hi translators.
We have a slight problem, and evident by this bug report, we have a mix of languages and their localised variants -- this has meant the "main" language misses out for different areas of the world. In some cases, the localised version is incomplete and the one users will see, such as de_DE (German for Germany users) while the complete de (German) translation goes unused (except for users outside of Germany).
To address this, the translations will be re-organised, I'm not too entirely sure how Transifex will react, since this will be a manual task.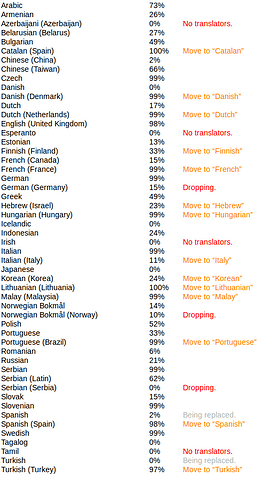 For affected languages, you may need to re-add yourself as contributors in the upcoming days.
When requesting new languages in future:

If it's new, please pick the main language first.
If one exists, and you see a need for a localised version (e.g. en_US and en_GB use different spellings), the language request will be accepted. You can also ask us to duplicate the translation in full (e.g. de → de_DE) to save having to re-translate everything for a few differences.
If there's any comments or concerns about this change, please let me know!