I'm trying to upgrade to 18.04 and am hitting brick walls everywhere I turn.
I tried to use Synaptic Package Manager to find the package and the search feature can't find it, even though it is present and accounted for.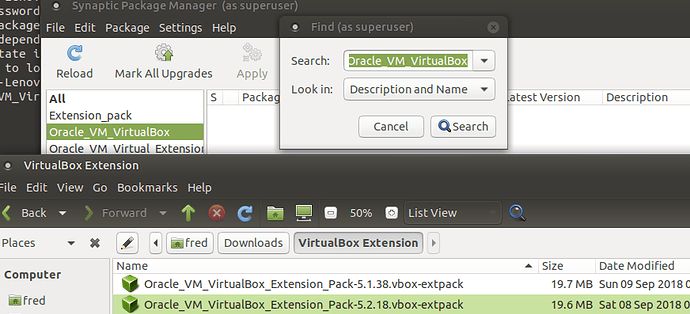 So I gave up and went to Terminal and it crashed out on an error.
[email protected]:~$ sudo dpkg -i /home/fred/Downloads/VirtualBoxExtension/Oracle_VM_VirtualBox_Extension_Pack-5.2.18.vbox-extpack
dpkg-deb: error: '/home/fred/Downloads/VirtualBoxExtension/Oracle_VM_VirtualBox_Extension_Pack-5.2.18.vbox-extpack' is not a Debian format archive
dpkg: error processing archive /home/fred/Downloads/VirtualBoxExtension/Oracle_VM_VirtualBox_Extension_Pack-5.2.18.vbox-extpack (--install):
dpkg-deb --control subprocess returned error exit status 2
Errors were encountered while processing:
/home/fred/Downloads/VirtualBoxExtension/Oracle_VM_VirtualBox_Extension_Pack-5.2.18.vbox-extpack
[email protected]:~$
Also tried this in Terminal:
[email protected]:~$ sudo apt-get install virtual-ext-pack
[sudo] password for fred:
Reading package lists... Done
Building dependency tree
Reading state information... Done
E: Unable to locate package virtual-ext-pack
[email protected]:~$
I don't know what program to use to install the extension pack.
Where oh where have I gone astray?
Oracle doesn't make this easy.
Thanks, Fred