I have a new Apple Macintosh computer and I am trying to find a way to send files back and forth from my Ubuntu Mate laptop.
I have turned on File sharing on the Mac.
In caja on the Ubuntu Mate, I can use the Browse Network bookmark and the name of the Mac appears. If I double-click on the Mac's icon, I get a dialogue box that says: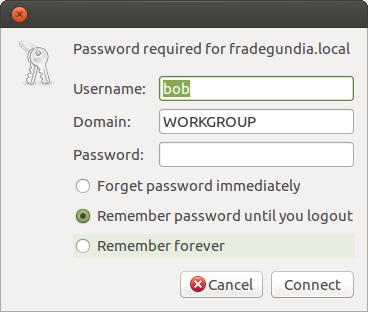 I correct the Domain name to the workgroup that the Mac is using, type the password of my user on the Mac and click "Connect".
The dialogue box goes away and then comes back with the Domain name reverted to WORKGROUP and waits for the password again.
Am I doing something wrong?
Is there a simpler way of doing file sharing between the two computers?
Samba does appear to run out of the box on my UM, so I have edited this question to remove unwanted (and mistyped) output...