These are some features that xfce/xubuntu has and Ubuntu-MATE doesn't. It would be great if they were implemented since xubuntu is considered to be lightweight-focused and Ubuntu-MATE should be more feature-complete.
1) Be able to resize windows after snap them to the sides using marco window manager.
I know that this is something that can be done using compiz but I always have weird bugs using compiz. Even if I find workarounds for the bugs, compiz is really heavy for my old laptop. So, since xfwm4 is able to do that, it would be nice if marco could also do it and it would really improve my workflow. I know it must be hard to do since mutter cannot do that either but it would be nice. I don't know if xfwm4 can be installed and work with MATE but everyone say that it is really buggy and it was one of the reasons I switched from xubuntu to Ubuntu-MATE.
2) There's no way to edit a desktop entry without custom script or terminal
When you right click on a .desktop file there is no option "Open with other Application" or any way to open it with pluma (or some other text editor). The only solution is to add a custom caja script to open files with pluma. It would be nice to add an option such that or at least add an option to "Run" or "Display" when you double click it, similar to an executable script file.
3a) Be able to see added items on mate-panel
Add a section at panel properties (or when you click "Add to panel") that list added items and makes it easier to remove or move them like xfce has. Once I spent 1 hour trying to find out why windows list didn't expand to the whole panel and it turned out to be because of a forgotten separator to the panel that I couldn't easily see because of the theme. Also a chrome panel launcher was giving xsession-errors after I uninstalled chrome and there was no way to remove it as panel wasn't showing it anymore.
Xfce4 image: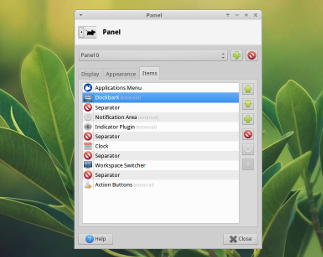 LXDE also has this feature. LXDE image: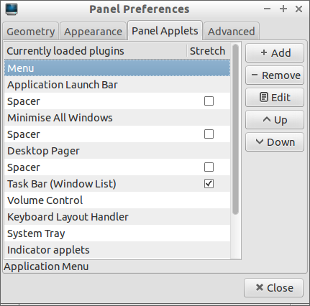 3b) When panel is full there is no way to access properties
This is minor but if, for example, you have many applets and many windows open in a way that the whole panel is filled, then wherever you try to right click you see the specific item's properties and there is no way to access panel options such as panel "Properties" or add "New panel" without closing some windows. So maybe add an area (let's at the edge of the panel) that when you right click it gives you panel options (even if there's an item there) or just add a combination (let's say alt + right click) that gives always panel options instead of the item's ones.
4) Separate mate-utils applications
In my opinion, it would be practical if mate-utils were separated applications and mate-utils was just a metapackage so that for example I can keep mate-disk-usage-analyzer but remove mate-dictionary (I think that gnome had gnome-utils some time ago and they separated the projects too).
5) Be able to show Harddisk read/write at mate-system-monitor
The system monitor indicator for the panel is able to show the Harddisk read/write. Can we add the same feature at the mate-system-monitor app under the Resoucres section?
PS: I can't wait to use Ubuntu-MATE 16.10 with gtk3+ build and I hate to switch back to xubuntu for those minor features (the 1st one is the one that really matters). If these things are implemented then I believe that MATE will be the best, most stable and most user-friendly desktop environment out there