We're absolutely chuffed to bits to announce, what is quite possibly, the best Ubuntu MATE beta we've ever released. We didn't participate in the Beta 1 so we have quite the change log from Alpha 2 that was released in January. We still have some fixes to land for the themes but overall this release is shaping up to be really great.
We have something of an epic change log, you can read it all here: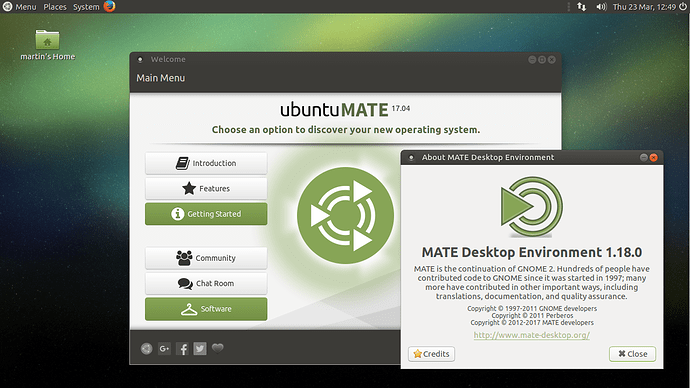 What to look for?
So when you're taking Ubuntu MATE 17.04 Beta 2 for a test drive here are some things to look for.
New icons and much improved themes.
A new panel layout in MATE Tweak called Pantheon.
A new menu, called Brisk, which is integrated into the Pantheon panel payout we just mentioned.
A whole new theme, Ambiant-MATE Dark.
DVD and Blu-ray playback support is a one click install from the Getting Started section in Ubuntu MATE Welcome
MATE Desktop 1.18 has landed!
If you apt install menulibre that will now become the preferred menu editor.
Your selected background image will become the image used on the lock screen.
We have added kdenlive to the Software Boutique (we heard you!) and included theme/icon integration.
Software Boutique now has, the improved, Bulk Queue enabled by default. So you can install multiple applications in one operation.
MATE Calculator is back, has been ported to GTK3+ and replaces Galculator.
Qt5 and Qt4 applications have improve theme integration with the selected GTK theme.
MATE Terminal will prompt you if you try and close a terminal running an active process.
Caja copy operations can be queued and paused.
And a whole lot more...