The formatting and partitioning process in Ubuntu MATE is not as smooth as I had hoped and I frequently run into problems.
(First) I still don't understand why I am asked to select a particular partitioning option when formatting a USB flash drive, only to be required shortly afterwards to partition it again (otherwise Caja won't detect the device). Why mislead a user into believing that it will be formatted and partitioned in one step when in fact I have to partition it anyway after it is formatted? Is there any way to do this more elegantly?

(Second) I have formatted a USB flash drive (with Disks) and got the following error message when trying to create a partition (again with Disks):

I am not sure what it means, so I formatted again (this time I used the quick format option in Disks). Before I get any further error messages, I am wondering whether I have chosen the wrong partitioning option. Which option shall I choose and why (for later use as a bootable USB drive)?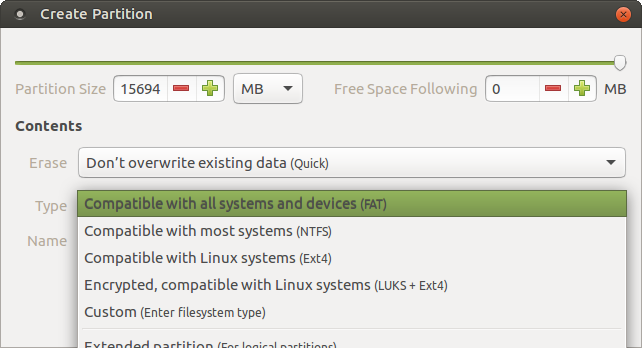 (Third) Is there anything I need to consider when I intend to use a USB flash drive for storing documents or in order to make it bootable by burning an ISO file onto it?
---
PS:
Does anyone know how I can numerate my questions/problems in this thread? In the editing view I see it as 1. 2. 3. In the viewing pane and the published thread there is no enumeration.

---