There I get
Zarlink ZL 10353 DVBT
No suitable device found
If I do a scan
Okay, that is good, make sure you have a picture like this!: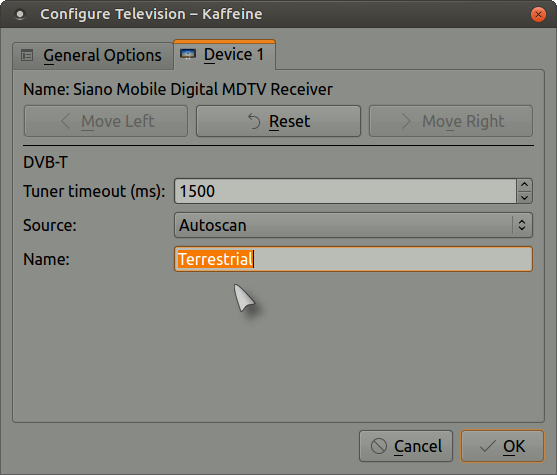 See this as you are a German speaker:
Thank you.
I will work through that.
Post back if you still have a problem!.

you can help the community if you like?:
I can not find my card
TerraTec Electronic GmbH Cinergy Hybrid Stick
in the list
What do you get when you paste this command in the terminal?:
dmesg | grep DVB
[email protected]:~$ dmesg | grep DVB
[ 53.154354] DVB: registering new adapter (Trident TVMaster 6000 DVB-T)
[ 53.154358] usb 2-1.5: DVB: registering adapter 0 frontend 0 (Zarlink ZL10353 DVB-T)…
[email protected]:~$
In your earlier post, it showed the above name, now it is showing the following, did you put it a different (new) device?:
[email protected]:~$ dmesg | grep DVB
[ 53.154354] DVB: registering new adapter (Trident TVMaster 6000 DVB-T)
[ 53.154358] usb 2-1.5: DVB: registering adapter 0 frontend 0 (Zarlink ZL10353 DVB-T)…
[email protected]:~$
No, same device. Maybe he recognizes it under that name?
Still Terratec:
[email protected]:~$ lsusb
Bus 002 Device 003: ID 0ccd:00a5 TerraTec Electronic GmbH Cinergy Hybrid Stick
That is possible, have you tried me-tv again in the meantime because the device seems to be working okay?.

me-tv is checking the channels but finding none
Kaffein finds no suitable device when I ask to check the channels
Hi,
go here and check that it is the correct model and download the drivers (win 7 32 or 64 bit!) and then follow the instructions below as it may be reading the wrong firmware, you may need to first extract the file in Windows, or if you already have a driver CD, copy the .inf file from the firmware folder on the CD!:
http://www.terratec.net/details.php?artnr=Cinergy+Hybrid+T+USB+XS+FM#Downloads
If your DVB-T stick is not working because your firmware is not part of the package "linux-firmware-nonfree", you may have to extract and copy the firmware file (not the folder but its contents, the file you need will say something like: win.xp.inf) from your Windows USB device driver disk into "File System > lib > firmware" as root, you can simply copy & paste the file, to do this, open a terminal (Ctrl + Alt + t) or press "Alt + F2" and type the following command:
gksudo caja

(gksudo nautilus in Ubuntu)
Once you have copied the file, close your home folder and restart your PC without the DVB-T device being inserted, if you have an internal DVB-T card, then obviously; this doesn't matter, please also note that this is only for digital TV reception and not analogue TV!.
Once your PC has booted you can insert your USB stick; then open a terminal and type "lsusb" to see if your stick is shown, if it is; then you are good to go and just need to scan for channels using me-tv or kaffeine. (This is assuming you have DVB-T reception in your area!).
PLEASE BEAR IN MIND THAT THERE MAY BE MORE THAN ONE ".INF" FILE IN THE FOLDER AND I'M AFRAID THAT YOU WILL HAVE TO DECIDE WHICH ONE YOU USE, I DON'T THINK IT WILL HURT IF YOU COPY AND PASTE MORE THAN ONE OF THEM INTO THE /LIB/FIRMWARE FOLDER?. THAT SAID, I JUST DON'T KNOW!.
Maybe I could extract the firmware out of a windows installation file?
How?
Do you have the driver disk for your TV stick?.
If you do, insert the disk into the CD drive and search the disk for the drivers folder, you may get lucky and find only one .inf in it?, in the example below, I have 2 but I would most likely need the one on the right!: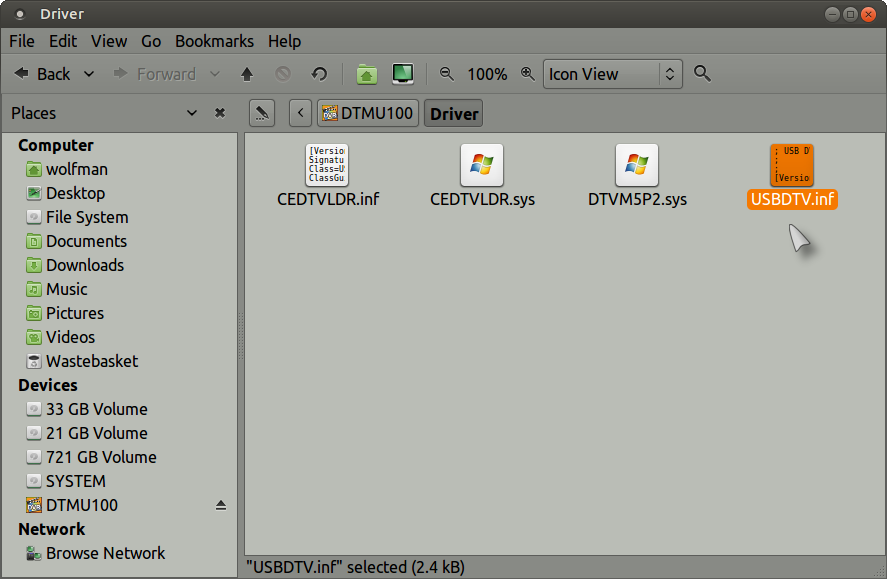 Also, have you tried using the "Additional Drivers Tool" in the Control Centre? (with the device inserted/plugged in!).

Additional Drivers tool does not show any relevant Driver.
I will have to look for the installation disk.
I hope I can still find it…

This will take a while.
I'll be back.

If the driver folder has multiple .inf files in it, make sure you find the one that corresponds to your model number, on my other driver disk, there are about 25 .inf files in it and 20 sub folders!

, I only showed you the other picture above to make it easy to explain what you are looking for!.
WHAT IS THE EXACT MODEL NAME OF YOUR DVB-T DEVICE?.
This is what my current device drivers folder looks like from my Win TV Aero stick!: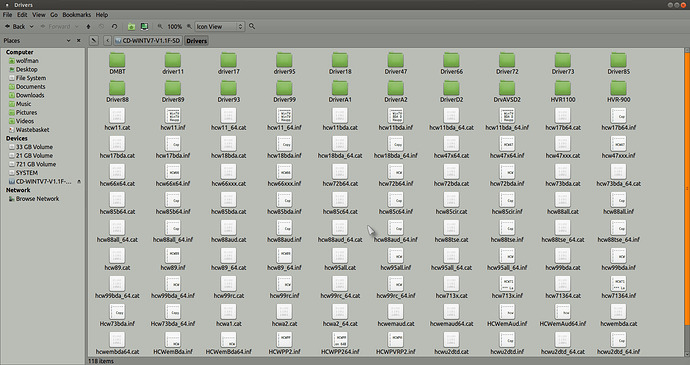 The exact model name is: Terratec Cinergy Hybrid Stick
Unfortunately the was no installation disk in the package. (internet only, exe only)
I have send a mail to Terratec, requesting the .inf file.
Maybe they will answer.
Thank you so much for your support so far.