We are preparing Ubuntu MATE 19.04 (Disco Dingo) for distribution on April 18th, 2018 With this Beta pre-release, you can see what we are trying out in preparation for our next (stable) version.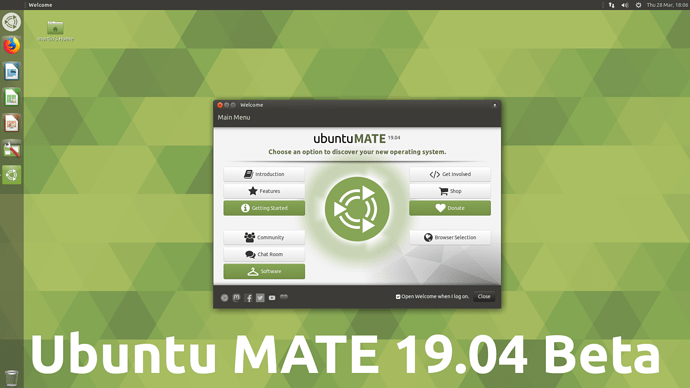 What changed since the Ubuntu MATE 18.10 final release?
Those of you who follow the desktop Linux news will know that upstream MATE Desktop recently released version 1.22.
Let's rip that band-aid off and get this over quickly. Ubuntu MATE 19.04 is shipping with MATE Desktop 1.20. Albeit, the latest maintaince release of MATE Desktop 1.20 with some of the bug fixes and new features from MATE Desktop 1.22 included. In fact, the version of MATE Desktop being shipped in 19.04 is derived from the same MATE packages that will feature in the upcoming Debian 10 (Buster) release.
You may be wondering why we're not shipping MATE Desktop 1.22? The answer, stability. MATE Desktop 1.22 introduces some underlying API changes in core components and while all first party MATE Desktop applications are compatible with the changes and completely stable, some third party applications are not. Some third-party applications are big crashers now and we've not been able to fix them in time.
So, we are playing it safe and sticking with MATE Desktop 1.20 and working with upstreams so we can land MATE Desktop 1.22 early in the Ubuntu MATE 19.10 development cycle.
MATE Dock Applet
MATE Dock Applet has been updated to 0.88 which introduces some new visual options, both based on the look of the Unity desktop. As can be seen in the screenshot above these can be used to make the Mutiny layout more closely mimic Unity 7.
Remote Desktop Awareness
Our MATE Desktop 1.20 packages ship with patches to support Remote Desktop Awareness (RDA). RDA makes MATE Desktop more aware of its execution context so that it behaves differently when run inside a remote desktop session compared to when running on local hardware. Different remote technology solutions support different features and they can now be queried from within MATE components. The inclusion of RDA offers the option to suspend your remote connection, supports folder sharing in Caja, MIME type bindings for SSHFS shares and allows session suspension via the MATE screensaver.
Learn more and get the downloads from the release notes: