MAKE A BACKUP COPY OF THE GRUB FILE BEFORE YOU START, IF WHEN YOU RUN "SUDO UPDATE-GRUB" AFTER AND IT FAILS, REPLACE THE FILE YOU CHANGED WITH THE ORIGINAL COPY!.
WARNING, DO NOT TRY AND EDIT THE "GRUB" FILE USING LIBREOFFICE, ONLY USE THE DEFAULT TEXT EDITOR LIKE PLUMA!. ONLY CONTINUE IF YOU ARE CERTAIN EVERYTHING IS IN ORDER!.
Like the title says, if you only have Ubuntu (Mate) as a single OS on your PC/Laptop and you want to see the Grub menu all the time at boot time, follow the next few steps.
1: Open Caja (Nautilus or whatever folder manager you have with the following command, substitute caja for your folder manager):
Press Alt+ F2 and enter the following command:
gksudo caja

(For Ubutnu: gksudo nautilus) (for Kubuntu: kdesu dolphin or konqueror) (for Xubuntu: gksudo thunar) (for Lubuntu: gksu pcmanfm)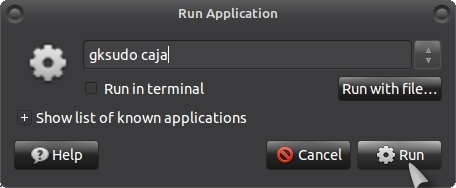 Enter your password when asked and your home folder will open as "root":
Click on "File System > etc":
"default":
"grub":
2: Now the grub file is open and you can edit it, you only need to edit 3 lines, it is that simple!. This is what your current file (with only a single OS installed) should look like when you first open the grub file:
Now add a hash sign (#) in front of the word GRUB on line 7 so it looks like this: #GRUB_HIDDEN_TIMEOUT=0 and change true to false on line 8 so it looks like this:
GRUB_HIDDEN_TIMEOUT_QUIET=false
Now go to line 31 and change "true" to "false" (type as written!) so it looks like this: #GRUB_DISABLE_RECOVERY="false"
Once done, click on "Save" and close all open windows. (DO NOT SAVE THIS FILE AS ANYTHING BUT A NORMAL TEXT FILE!. IF YOU GET ASKED TO SAVE AS AN ODT FILE, CANCEL THE SAVE AND CLOSE WITHOUT SAVING AND THEN RE-OPEN THE FILE USING PLUMA OR YOUR STANDARD TEXT EDITOR, IF YOU DO SAVE THE FILE AS AN ODT FILE, YOU WON'T BE ABLE TO UPDATE GRUB ANYMORE. YOU HAVE BEEN WARNED):
3: Now open a terminal (Ctrl + Alt + t) and enter the following command:
sudo update-grub

and close all windows and restart your PC, you may have to restart twice before the full menu shows without having to press the "Shift Key"!.
You should now see the the menu: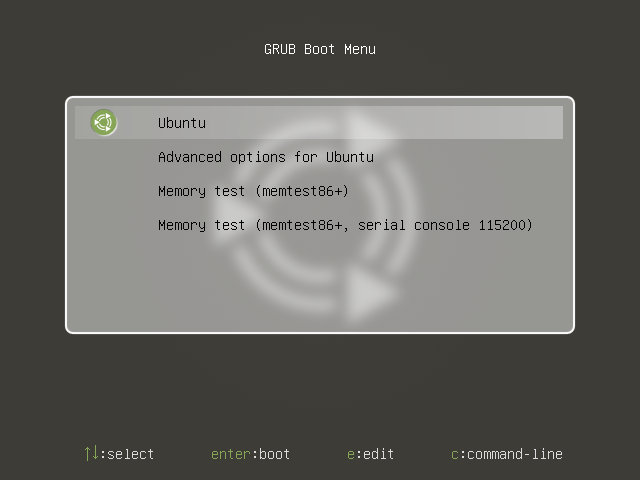 I hope it helps!.

See also: